<! -- * The part for displaying Ad Campaign 1 and 2 -->
US activity moderates, but Fed balance sheet is growing strongly; China grapples with debt risk; China tells iron ore buyers to exercise restraint; G7 close to tax deal; UST 10yr at 1.61%; gold and oil firmer; NZ$1 = 72.2 USc; TWI-5 = 73.6
<! -- * The part for displaying Ad Campaign 3 and 4 -->
🎬📺 Free Movies and Free TV Shows! 🎭🎬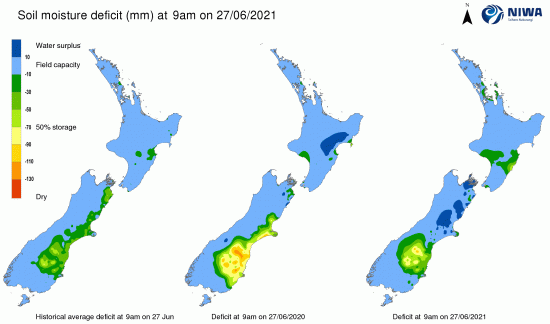 Here's our round-up of the key economic events affecting New Zealand overnight, with news of China's struggle to contain the effects of excessive debt and high commodity prices.
🎬📺 Free Movies and Free TV Shows! 🎭🎬
But first in the US, the Chicago Fed's National Activity Index suggests that economic activity declined in April from March. This is actually in line with other data for April, such as employment. But later data suggests this Chicago Fed monitor will rise again when the May assessments are complete.
We regularly report on the size and growth of the US Fed's balance sheet. It has been slowly rising to about US$7.9 tln or just under 36% of US annual GDP. But new projections released by the New York Fed suggest it could rise to US$9tln (or 41% of US GDP) by the end of next year unless they change course and begin to wind down soon.
In China, corporate debt risks are increasing, forcing companies to contract much shorter maturities to close their refinancing deals. It is the second largest debt market in the world, but is by far the largest in terms of corporate debt maturing before the end of 2021. In fact, there is so much to expire in the next seven months that it matches all maturities for both the US and the EU for that period combined. Investors are getting nervous, and that makes stress levels higher. To make matters worse, there are two trends; Chinese companies are defaulting on local bonds at the fastest rate ever recorded, and Beijing is trying to enforce commercial discipline on these debt markets by trying not to bail out investors when debt goes bad. But those Beijing mandarins will need nerves of steel to push their way past investors who can see what's going on. In addition, the SOE-bad bank Haurong (established to absorb the effects of a previous crisis) is also deeply rooted in these problems. It has a good chance of getting ugly.
But make no mistake; Beijing has no qualms about meddling in markets. It has increased efforts to curb skyrocketing raw material costs that threaten their economic recovery, by convening metals industry representatives over the weekend to warn them of moves that would raise prices. It is frustrated that it cannot discipline Australia, and it is frustrated with the risks of rapidly rising producer prices. But now that the rest of the world is growing rapidly, it's not having the impact it had when it was the only growing economy. Yesterday, Chinese iron ore prices down somewhat, but not as much as you might expect given the policy guidelines.
And China's influx of new development projects has peaked. And that means that excavator sales levels are now falling, an unusual situation for them.
Taiwan industrial production rose by +13.6% in April compared to the same month a year ago. Looking back a year earlier to avoid the pandemic effect, it is up +18.5%. So this is maintaining a rambunctious growth path. Taiwanese retail sales are up +18.3% year over year, but that includes pandemic disruptions. Compared to April 2019, they are up only a modest +6.2%. Drought and the re-emergence of constraints from a new pandemic wave is starting to take a bite out of them.
On the world stage there are reports that the G7 is close to agreeing on the taxation of the world's largest corporations, with the aim of ending the ability of global corporations to shift profits to low-tax jurisdictions. This deal is more likely to succeed now that the US is part of the resolution.
On Wall Street, the S&P 500 is up +1.2% in a strong start to the week with a return to risk appetite. Overnight, European markets were up about +0.5% during their Monday sessions. Yesterday the very large market in Tokyo ended +0.2%, Hong Kong ended -0.2% while Shanghai ended the session +0.3%. The ASX200 rose +0.2% while the NZX50 fell -0.1%.
The latest global compilation of COVID-19 data is: here. The global number is still rising, now there are 166,985,000 people infected at one point, a much less +160,000 per day and a slow increase as the number of new cases in India declines. But they remain very high in Brazil. Worldwide reported deaths now exceed 3,467,000 and over +10,000 per day. Vaccinations in the world are still rising, but at a slower pace, now reaching 1.67 billion. In the US, nearly half of their population (49.8%) has had at least one dose. Nearly 40% of Americans are fully vaccinated (131.7 million people). The number of active cases there has fallen to 5,791,000, with fewer new infections than recent cures and steady progress.
The 10-year UST yield is soft today at 1.61% from this time yesterday. The yield curve of 2-10 in the US is at +145 bps and is slightly flatter. Their 1-5 curve is also slightly flatter at +76 bps, while their 3m-10 year curve is flatter at +160 bps. The Australian government's 10-year benchmark fell -4 basis points to 1.63%. The 10-year Chinese government bond is unchanged at the new lower level of 3.09%. And the New Zealand government ten years from now is down -1 bp to 1.83%.
The price of gold starts today at US$1883/oz, up from +US$2 today.
Oil price starts today +US$2 firmer at just below US$66/bbl in the US, while the international Brent price is just below US$68.50/bbl.
The Kiwi dollar opens at 72.2 USc today and is up +½c since this time yesterday. Against the Australian dollar we have risen to 93.1 AUc. Against the euro, we are firmly at 59.1 euro cents. That means our TWI-5 starts today at 73.6.
Bitcoin price is now at $37,790 and today it is a massive +14.4% increase from yesterday. The volatility in the last 24 hours was still very high at +/- 4.9%.
The easiest place to stay informed about event risk today is through our by Economic calendar here ».
🎬📺 Free Movies and Free TV Shows! 🎭🎬 <! -- Display the POST Tags -->
[ Sharing is Caring! ]