<! -- * The part for displaying Ad Campaign 1 and 2 -->
Asian Cancer Institute: Reviving Hope for Cancer Treatment
<! -- * The part for displaying Ad Campaign 3 and 4 -->



The
Asian Cancer Institute
is an internationally recognized cancer center of reputation and excellence based primarily in Mumbai for the past 19 years. Founded by dedicated leading cancer specialists with decades of service at the Tata Memorial Center, they continue their mission of "
Fight cancer anyway
Via the Asian Cancer Institute Mumbai. This organization has the experience, reputation and presence of more than 60 leading consultants, including stalwarts such as Padmabhushan ex TMC Director – Dr Praful Desai as Patron, Padmashri Dr RKDeshpande, Dr Deepak Parikh, Dr Sanjay Sharma, Dr Jagdeesh Kulkarni, Dr Hosi Bhatena, Dr. DN Savant, Dr. Rajendra Kerkar, Dr. Tanveer Majeed, Dr. Shravan Shetty, Dr. Prriya Eshpuniyani, Dr. Rajesh Singh, Dr. R. Gopal; Dr. Nilesh Lokeshwar; Dr. Suhas Aagre, etc. In surgical and medical oncology in various fields of oncology apart from others who contribute their rich experience and charity.
The organization started as an outpatient clinic in June 2002 in the Wellspring Clinic of the Piramal Group Parel locations. Later it was moved to SL Raheja Hospital in Mahim Mumbai at Dasshera from 2002 with clinical facility, and moved again to Sion in 2012. Currently Asian Cancer Institute is present at ACI-Cumballa Hill Hospital Kemps Corner Mumbai since 2020. A full-service associate center at Asian Cancer Institute at Apex Multispeciality Hospitals, Borivali East Mumbai, was established in early 2021 after operating as a daycare center in Borivali East Mumbai since 2015. Its presence was previously known in East India as a partnership of 2016-2019 at Odisha as -de "
AMRI hospital; – Asian Cancer Institute, Aimed at needy patients in all walks of life. ACI-Cumballa Hill Hospital – an iconic South Mumbai institution is a tertiary care hospital – cardiac surgery, orthopedics, gynecology and other specialties with the added power of oncology.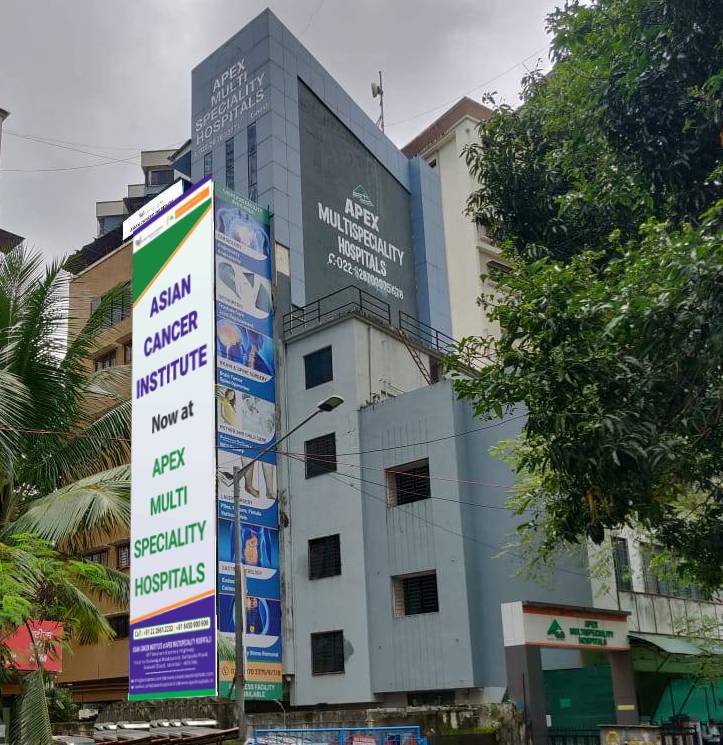 Currently, ACI-Cumballa Hill Hospital's clinical activities range from
Education [Undergraduates and postgraduates, Nursing students, physiotherapists, occupational therapists and others; creating audio-visual public awareness and education lectures etc.]
Maintenance – providing first-class clinical service in the disciplines of medical oncology, surgical oncology and the incoming radiation, immunotherapy and targeted therapy, and finally
clinical and basic research both in our own organization and through employees. The organization is recognized as the best cancer center in Western India and has been among the top five in India in recent years.
Clinical Activity– About 4,000 to 5,000 new cancer patients are usually treated annually. Since its inception, more than 30,000 new registrations and more than 10,000 cancer surgeries have been completed. Patients come from Maharashtra, surrounding states, neighboring SAARC countries, Africa, Europe and even the United States. The comprehensive services include outpatient, dental treatment, chemotherapy, surgery, radiation consultation, nutritional services, genetic consultation, psycho-oncology, pain and palliative care, stoma care.
The center aims to be a reference point for oncology care for national and international patients providing world-class care in India, with the expert care concept of Clinical Expertise. Excellence in clinical care in oncology is delivered at an affordable price without compromising on the delivery of excellent results.
Contact details:

Asian Cancer Institute

ACI Cumballa Hill Hospital

93/95, August Kranti Marg, Kemps Corner, Mumbai 400036

Tel: 022 6277 1111, 7506777111
Asian Cancer Institute at Apex Multispeciality Hospitals

From Western Express Highway, next to Suswagat Restaurant, Dattapada Road, Borivali East, Mumbai 400066

Tel: 022 2861 2222, 8450900900

Web:
www.asiancancerinstitute.com


E-mail identity:
info@acicancer.com
Disclaimer: The views / suggestions / opinions expressed in the article are the sole responsibility of the experts and the hospital concerned.
Resource: timesofindia.indiatimes.com
<! -- Display the POST Tags -->
[ Sharing is Caring! ]